Yet another Crime Thriller KDrama, I absolutely enjoyed. Flowers of Evil has it all. Action, Romance and a nail-biting thrilling plotline.
---
SYNOPSIS
"Flower of Evil" is a suspense melodrama about a man who hides his cruel past and changes his identity, while his detective wife tracks down his past.
---
THOUGHTS
The Love Story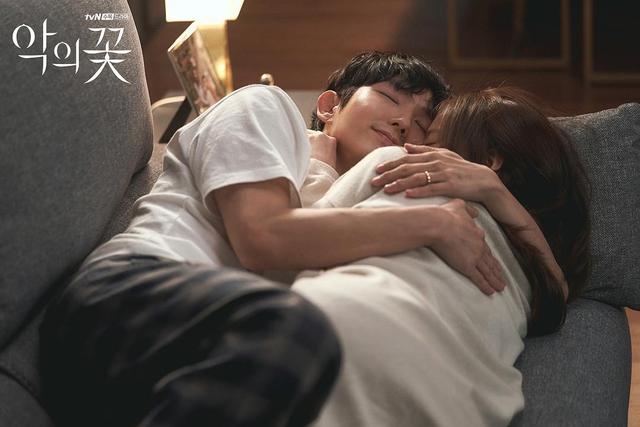 Even though, this has a crime/melodramatic plotline, I loved the cute love scenes. Also, the scenes with his family and daughter in general are so well done. The emotional side of this plot does get too intense along with the building suspense which I guess made the show unexpectedly enjoyable to me. His love and affection towards his wife and daughter is so pure. <3

CRIME – SERIAL KILLER TROPE
I find the serial killer trope over used when it comes to Kdramas. However, this one does manage to have it's own spin and I love the idea of portraying how bad influence during your adolescents years can shape you. I figured out quite quickly who the killer was though which was the only downside of this show as the suspense that leads to it is very obvious. The circumstance in which the killer ends up becoming a serial killer is quite a good premise and has so many lessons to reflect on. A few definitely being living in denial and bad parenting 😛 haha.
A PERSON WHO CAN'T EXPRESS HIS EMOTIONS
Lee Joon-gi's acting is phenomenal when it comes to pulling off this character. Overall, the backstory of how he ended up this way is also quite intense. I liked how the show managed to highlight how society has a big hand in helping people that suffer with mental illness like these and also how these kind of illnesses are portrayed in the society. We also have a mix of that typical supernatural misbelief of "evil" that goes on which was interesting.
RATINGS : 5.0/5.0
Overall, this was quite an intense drama. It had all the elements that make it worth watching. I totally binge watched this, as each episode ended in a nail biting cliff hanger. I adored the family scenes and love story between the main characters and is what bring in the lighter moments throughout the show. Besides that, the drama does bring some spot light to people that are unable to express their emotions which in my point of view was quite well done. I did not find any over the top illogical scenes either which is quite common in KDramas. 😛
DETAILS
Genre : Mystery, Romance , Thriller
No Of Episodes: 16
Year Published : 2020