Hello Book Lovers!
Looking back at May, I did manage to watch and read a lot of stories even though I was super busy, and in a reading slump for half of it.  I did participate in the Asian Readathon last month, and will be participating in Pride Month this year. I have so many back listed books I am hoping to get to , I am so excited.
So, without further ado, lets begin :
PRIDE MONTH TBR
The Color Purple by Alice Walker (1982)
Also in my Classic Club List, I recently realized this had LGBT themes involved as well and will be reading it this month. It also has a lot of graphic violence and plays on the themes of race and their exceedingly low position in the social structure as African Americans. I am super excited to see how I like this book, with the movie remake happening this year.

Carry On by Rainbow Rowell (09/05/2017)
I loved Fangirl, and this is  based around the story that Cath was a huge fan girl of. And it is about this gay couple, and I thought it was a contemporary novel, but I heard it has some fantasy elements . It's a shame how I haven't read this yet, or any of the books fro this list.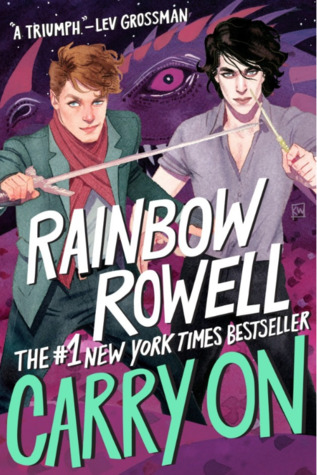 Red, White and Royal Blue by Casey McQuiston (14/05/2019)

A new Release, about two boys, and a little royalty! This book is all over my Instagram, and I am so intrigued by the premise and want to read it and experience it myself,

If I Was Your Girl by Meredith Russo (03/05/2016) My Audiobook for the month on Storytel! I rarely come across Trans Books, the only other trans book I know is George and I found this book in the library, and was totally want to read it this month.

They Both Die at the End by Adam Silvera (05/09/2017)
I am so embarrassed to say I haven't read not one book from this Author, who by the way is also gay, which makes it an Own Voices Novel too. I am guessing this is going to be heartbreaking by the title. *gets the tissues ready*





 I'll Give You The Sun by Jandy Nelson (16/09/2014) I have tried to get into this book, several times and have failed. I really do not blame this book, because I am pretty much a moody reader. However, I really do want to finish reading it this month. 
We Are the Ants by Shaun David Hutchinson (19/01/2016)

So I knew this was a Science Fiction Novel, but turns out the main character is gay. So I am prepping reading it this month, than putting it off for later 😛




---
CURRENTLY READING
---
Aurora Rising by Jay Kristoff, Amie Kaufman (07/05/2019) A New Release! I have Illuminae, and waiting to borrow from my Library. I am a few chapters in, and I am love the world building already ! Also the cover ❤




Dumplin' by Julie Murphy (15/09/2015) I am eagerly wanting to watch the movie on Netflix but need to read the book first….  A story with body- shaming as a theme, and high school drama. Already loving it!




Assassin's Apprentice by Robin Hobb (07/08/1995) Finally started with this series yesterday. I haven't read a lot of epic fantasies, but this is recommend to people who are crazy about Game Of Thrones. And it definitely is entertaining and reads like a YA Novel.


---

What are you planning to read this pride month? Are you participating in any readathons?  – Lets Chat!